Estimated Arrival: Between Jun 01 and Jun 06. *ETA to the Continental USA Only
3000W Pure Sine Wave Power Inverter w/ LCD & Remote Controller

This pure sine wave inverter is highly recommended for sensitive electronic equipment that requires cleaner AC power to operate effectively. In this 24V DC pure sine wave power inverter, the 120V AC output harmonically follows a smooth sine wave and is almost identical to normal mains electricity. Therefore, it allows you to power up multiple loads such as office equipment and major household appliances from your vehicle. It is ideal for laptops, motors, freezers, fans, LCD, fridges, air compressors, microwave ovens, notebook computers, switching power supplies, coffeemakers, TV sets, CD players, DVD players, etc.



Remote Controller & Cables




Fully Security Protections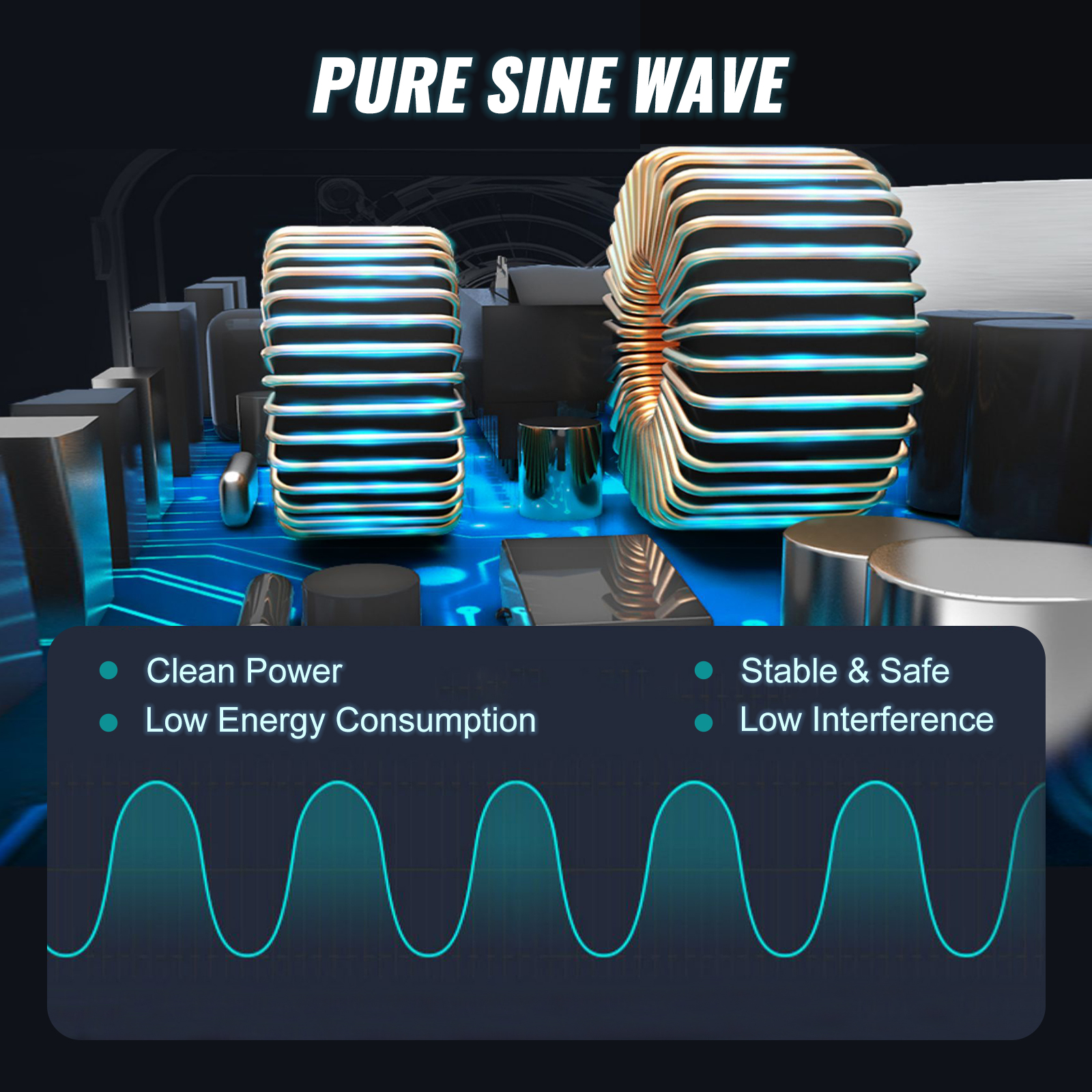 Sturdy Aluminum Alloy
This power inverter is made of aluminum alloy material, which is able to resist oxidation, compression, vibration, and deformation. As a result, a slight drop or impact will not affect the internal parts.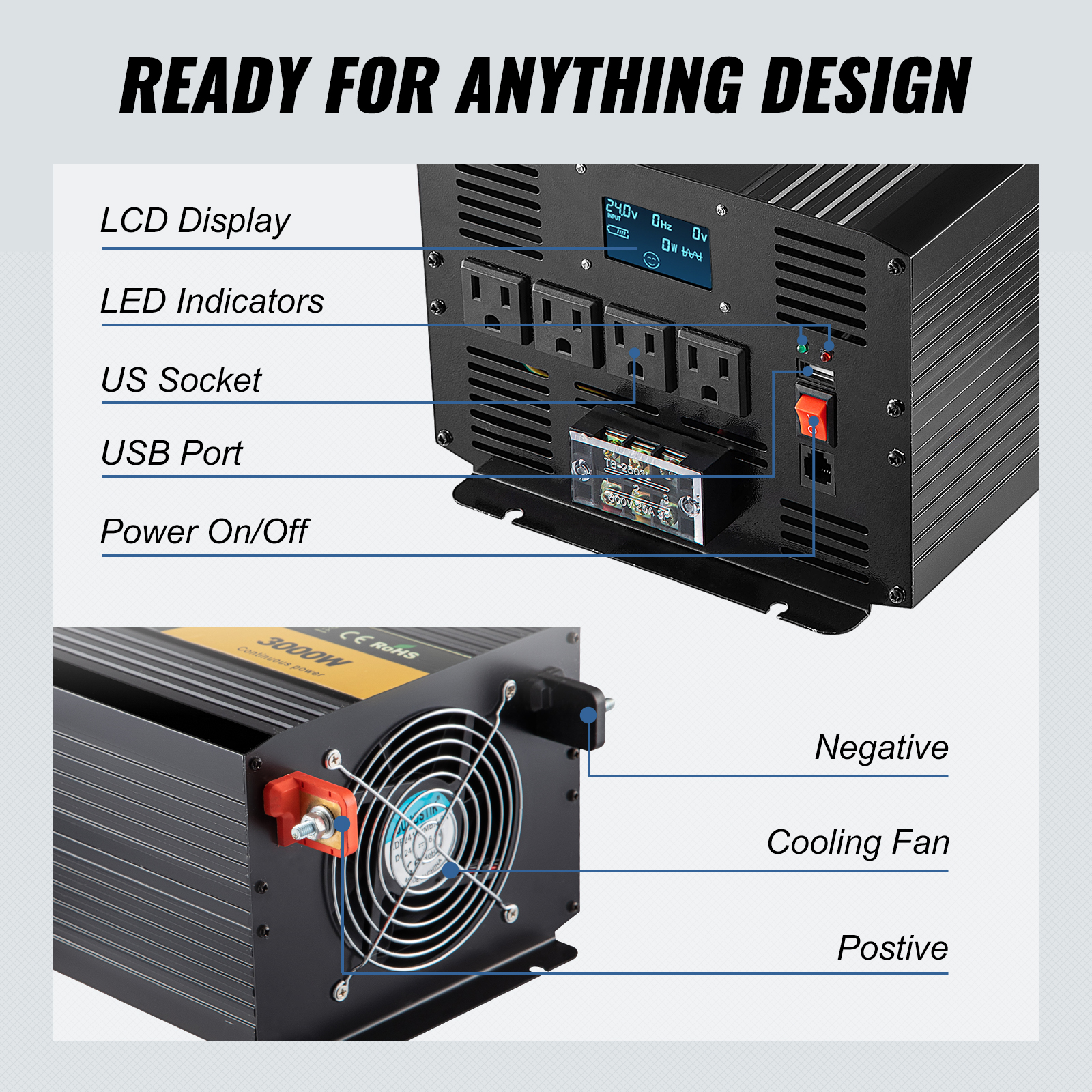 LCD Screen & LED Indicators
The LCD screen easily watches the input/output power and LED indicators to facilitate the user to observe the machine's regular operation more directly. In addition, an Independent power switch is easy to control the inverter.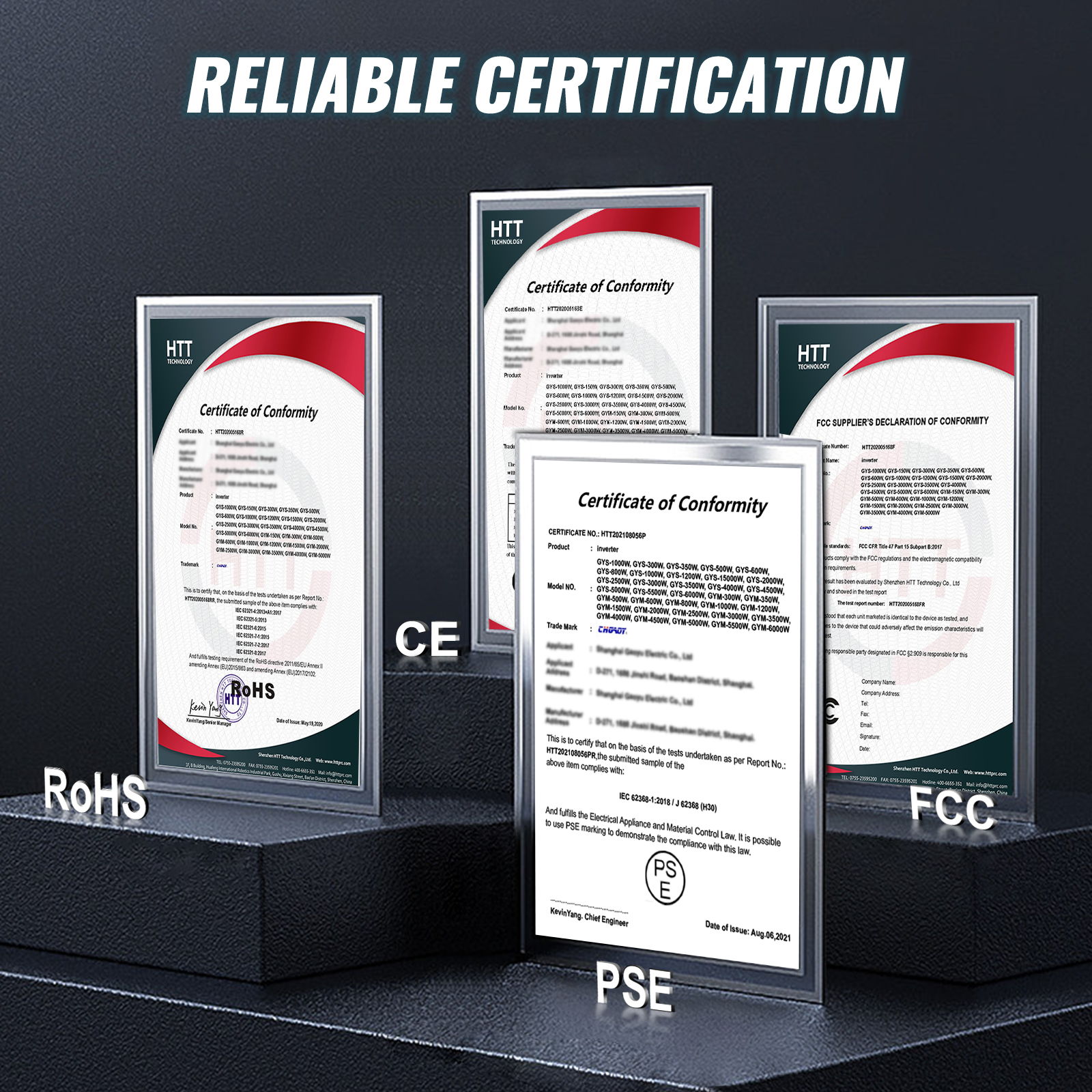 Effortless to Control
The remote controller uses a high-quality plastic shell for wear resistance and fall resistance. This LCD remote controller with cable and fuses accurately controls the ac to dc converter in the room and open area.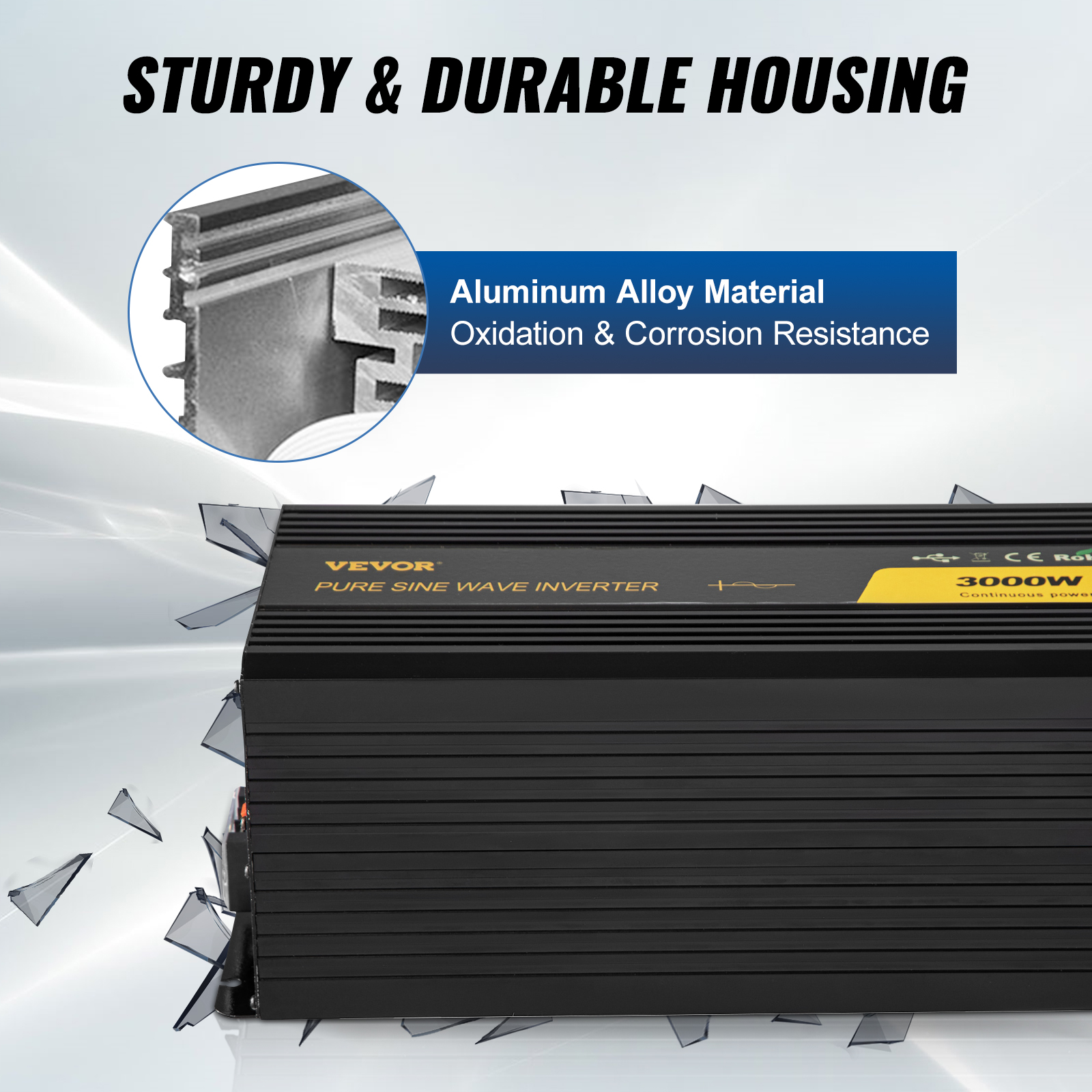 Intelligent Fan Cooling
A built-in silent cooling fan will effectively rotate at a different speed according to power load and temperature. In addition, fan net cover prevents small animals from flying into the machine.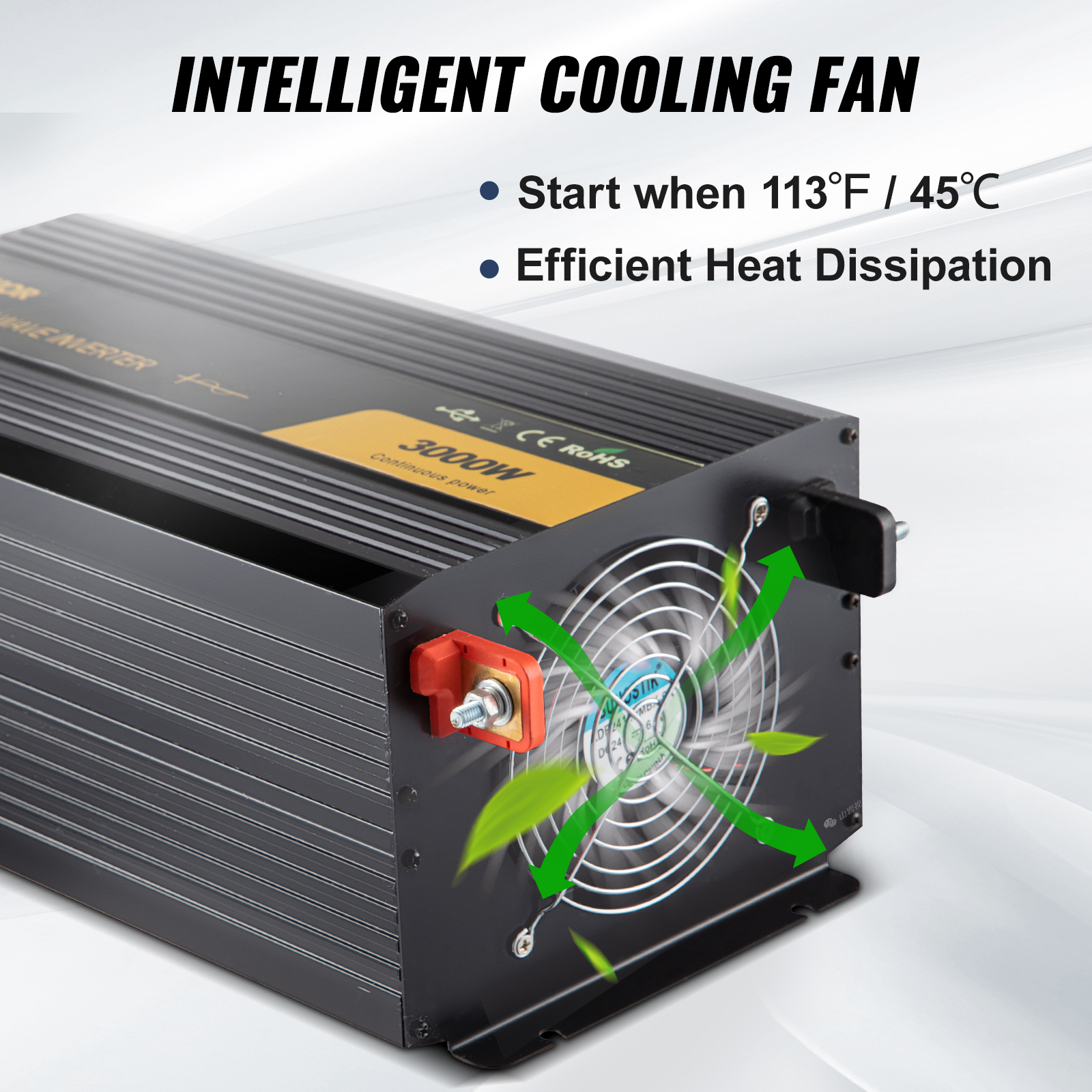 Multiple Protection Designs
There are six main protection measures for an inverter: short circuit protection, over-temperature protection, over-load protection, low voltage protection, over-voltage protection, reverse polarity protection, soft start, shutdown recovery, overpressure protection.
Various Application
The power inverter is able to output the more stable pure sine wave. Therefore, it is ideal for grinder, sandblast/punching/weeding/scanning/sewing machine, air compressor, LCD monitor, fridge, freezer, microwave oven, electric saw, etc.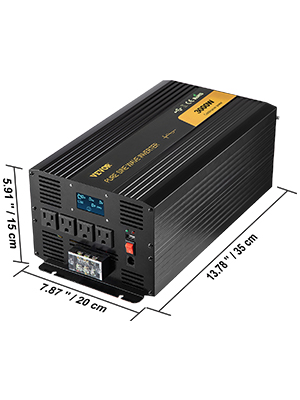 Continuous Output Power: 3000W




DC Input Voltage: DC24V(19-31V)




AC Output Voltage: 120V AC ± 5%




Output Waveform: Pure Sine Wave




Outlet Type: 4 x US Outlets




Cooling Mode: Intelligent Fan Cooling




Low-voltage Shutdown: 19 ± 0.5V




Low-voltage Alarm: 21 ± 0.5V




Over-voltage Shutdown: 31 ± 0.5V




Over-temperature Protection: 176 ℉ / 80 ℃




Over-load Protection: Alarm at 125% overload, stop working after 20s




Built-in Cooling Fan: Starts when the internal temperature is 113 ℉/ 45 ℃




Product Dimensions(L x W x H): 13.78 x 7.87 x 5.91'' / 350 x 200 x 150 mm




Net Weight: 15 lbs / 6.8 kg




Certications: CE, RoHS, FCC, PSE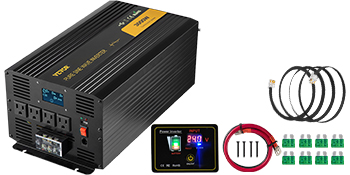 1 x Pure Sine Wave Power Inverter




1 x Remote Controller (w/ Twisted Pair)
Specification
| | |
| --- | --- |
| Model | GYS-3000W |
| Continuous Output Power | 3000W |
| Peak/Surge Power | 6000W |
| DC Input Voltage | DC24V(19-31V) |
| AC Output Voltage | 120V AC ± 5% |
| Output Waveform | Pure Sine Wave |
| Features | LCD Display |
| Outlet Type | 4 x US Outlets |
| Cooling Mode | Intelligent Fan Cooling |
| No Load Current | < 1.2A |
| USB Output | QC 3.0 |
| THD | ≤ 3% |
| Efficiency | ≥ 85% |
| Output Frequency | 60 Hz |
| Low-voltage Shutdown | 19 ± 0.5V |
| Low-voltage Alarm | 21 ± 0.5V |
| Over-voltage Shutdown | 31 ± 0.5V |
| Fuse | 30A |
| Over-temperature Protection | 176 ℉ / 80 ℃ |
| Over-load Protection | Alarm at 125% overload, stop working after 20s |
| Built-in Cooling Fan | Starts when the internal temperature is 113 ℉/ 45 ℃ |
| Product Dimensions(L x W x H) | 13.78 x 7.87 x 5.91'' / 350 x 200 x 150 mm |
| Net Weight | 15 lbs / 6.8 kg |
| Certications | CE, RoHS, FCC, PSE |
---